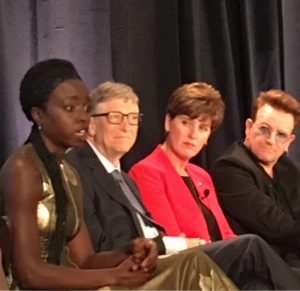 On September 17, 2016 at 3 pm this year, I attended and participated in the ONE Town Hall at the Hotel William Gray in Montreal for a conversation about the fight against HIV/AIDS, why poverty is sexist, and what we can do about it.
We were 100 One members from across Canada, myself representing Québec
Elite guests included Prime Minister Trudeau, Bono from U2, Bill Gates, Minister for International Development Marie-Claude Bibeau, Danai Gurira, Bono, Patricia Asero Ochieng and Consolata Opiyo (and other special guests!)
I was struck by how natural and real the celebrity guests were, particularly Bono and the Prime Minister.
More importantly, I was intensely inspired to hear the story of Consolata Opiyo and Mother Patricia, who fought an incredible couragous battle, and have survived to tell their story. "I was tested positive for HIV when I was 3 years old. My beautiful mom, Patricia, unknowingly passed the infection on to me. She was just 22 when I was born, and had no idea that she was HIV positive." Consolata today they can help others. I was so honoured to truly connect with Consolata personally and look forward to being in touch with her.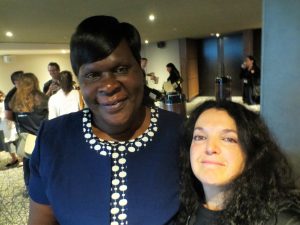 From the event:
One year ago, you helped start a campaign to help make sure all babies could be born HIV-free.
And this weekend, you helped make history. On Saturday, we delivered your name straight to Prime Minister Trudeau, and we found out that the Global Fund had just raised nearly 13 billion dollars to help fight AIDS, TB and malaria for the next three years.

That means up to 8 million more lives saved because of you. Today is a day to celebrate – and say thanks. So let's say thank you together to Prime Minister Trudeau for his leadership in this fight

Patricia Asero Ochieng & Consolata Opiyo, Spokesperson ONE members