Publisher, composer, lyricist & accomplished artist in French & English.
[row cols_nr="2″][col size="8″]
Fabiola is no beginner at her craft. A long-time artist, singer, composer and lyricist in both English and French, she is also a recent publisher. Fabiola is known for her stage presence, having sung and performed for audiences as large as 43,000 at the Québec National Celebration.
She is an accomplished member of the following reputable artist associations: Union des artistes (UDA), Society of Composers, Authors and Music Publishers of Canada (SOCAN), APEM, OPIC/CIPO SACEF, SODRAC, SPACQ.
Fabiola has toured, performed and presented showcases at festivals, and on television shows. These include opening for several well-known artists, including Richard Adams, Jano Bergeron, Martine Chévrier, Luc De Larochellière, Monique Fauteux, Daniel Lavoie, Marie Philippe, Gaston Mandeville, Marie-Claire Séguin, Toulouse and Yves Beauchemin (author of the novel Le Matou). Michel Rivard recalls her excellent performance at the Festival de la Petite-Vallée. He loved her voice and was planning a project with her.
Fabiola
is a versatile singer able to perform many musical styles. Her vocal virtuosity permits her to sing and do what she wants with her voice. A graduate of Concordia University, with a Bachelor of Fine Arts, Music, with a specialization, Voice Performance, in Opera. She is the owner and founder of her own voice school
LA BONNE VOIX
.
Fabiola
is no unknown to the Quebec charts where in the late 90's offered us the single "Atterris par erreur" which reached 37
th
position on the Hit-parade Radio-Activité and received a Talcan Achievement Award that addresses emerging artists. "On Prend Des Risques" et "Sans Y Penser" were two other singles that achieved radio play. In 1991, Fabiola with song "Billie Vit" was winner of
Québec en Chanson
, sponsored by CHOI-FM, which held 1
st
position on the radio stations and became number one on the Quebec charts.
Come and see the
videoclip excerpt of It's My Dream
along with
newly released
videoclip of
Qu'est-ce qu'on fait là.
The album It's My Dream will surely get noticed by the public and the music industry, hopefully reaching international success. You'll fall in love!
More
See Fabiola's musical achievements
Find music & wellness coaching
[/col][col size="4″]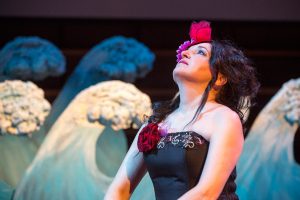 "Keep your eyes on the stars, and your feet on the ground".
— Theodore Roosevelt
"At any given moment you have the power to say this is not how the story is going to end."
— Christine Mason Miller
Contact
Fabiola Cacciatore / La Bonne Voix (School & publishing house)
[email protected]
[/col][/row]